DAY SIX - GET YOUR CHOCOLATE FIX
Over the past few days, we've linked you to many sources of information on a veg lifestyle. We hope you've found them to be interesting and helpful.


DAILY DOSE OF NUTRITION ADVICE
WITH DR. JANICE STANGER
Why Dark Chocolate Is Your Healthiest Treat
No one is perfect--and who would want to be? Special treats such as chips, cookies, cakes, and dairy-free frozen desserts may be calling your name, especially for celebrations and holidays.
You are okay indulging in such vegan "junk food" for up to 5% of your total calories. So, for example, if you need 2,000 calories a day, 700 calories a week of special treats won't be a big problem. Note that if you have food addiction issues, with problems stopping junk food intake once you start it, you might need to avoid such processed foods, at least for a while until your body is more healed and food cravings fade.
Dark chocolate is the healthiest special treat if you are eating outside the circle of whole foods. The beneficial phytochemicals in chocolate are thought to be responsible for the observed ability of chocolate to lower the risk of cardiovascular disease, hypertension, and stroke. Other studies have shown chocolate enhances skin health, visual function, and memory.
Carefully read the label of your dark chocolate selection, or ask to see an ingredient list if you are buying it at a candy store without packaging. Some dark chocolate may contain dairy ingredients, such as butter or milkfat. With so many excellent choices that are free of these unhealthy ingredients, you never have to settle for less than the best.
Enjoy the growing number of products from dark chocolate makers who know the secret to the best chocolate is to be 100% plant-based.

SUGGESTED LINKS
TIP OF THE DAY
Yes, you can please them all!
Cooking meals to satisfy both vegetarians and meat-eaters isn't as difficult as you might imagine. it's very possible for vegetarians and meat-eaters to dine happily together at the same dinner table.

Many meals are a combination of grains, veggies, and meat. If you live in a household where meat is served, request that a vegetarian portion be removed before the recipe is finished and the meat is cooked in.

Some other suggestions include:
Mock meats, such as veggie bacon, sausage, and burgers.
Tacos or fajitas (have each person prepare their own).
Pasta with meatballs (or veggie meat balls) served on the side.
Barbecued meals with a mixture of burgers, hot dogs, veggie kabobs, veggie burgers, and veggie hot dogs.

Some other really great meatless options are breads, beans, potatoes, couscous, rice, veggie casseroles, and desserts.

RECIPE IDEAS
Greek Salad
Ingredients
Half head of romaine lettuce, chopped
Half English cucumber, sliced on the diagonal
2 ripe tomatoes
1 small red onion, chopped
1/4 cup black olives (Kalamata)
10 cherry tomatoes
1/2 cup vegan feta cheese, crumbled (an excellent vegan soy feta by Sunergia is now available in natural food stores such as Whole Foods)
Dressing Ingredients
1 tbsp balsamic (or red wine) vinegar
2 tbsp extra-virgin olive oil
dash of salt
Directions
Toss salad in a bowl.
Combine dressing ingredients in a small jar and shake.
Pour on dressing just before serving. Garnish with black pepper.
Baked Stuffed Shells
Ingredients
16 Jumbo pasta stuffing shells
6 cups tomato sauce
1/2 cup vegan Parmesan (nutritional yeast works well or look for Parmesano)
1 pound firm regular tofu, mashed
2/3 cup vegan mayonnaise (look for Vegenaise)
1 1/2 tablespoons minced fresh parsley, or 2 teaspoons dried parley flakes
2 teaspoons dried basil
2 teaspoons onion powder
1 teaspoon garlic powder
salt and pepper

Directions
Preheat oven to 350 degrees. Oil a 9" x 13" baking dish or mist it with nonsitck cooking spray.
Cook pasta shells according to package directions. Drain well.
In a large bowl, combine tofu, mayonnaise, herbs, and seasonings, and mash into a finely grained paste.
Stuff about 2 rounded tablespoonfuls into each shell.
Spread a cup or so of tomato sauce over the bottom of the prepared baking dish. Arrange stuffed shells in a single layer over sauce.
Spoon remaining sauce over the shells and sprinkle with vegan Parmesan.
Bake until heated throughout, about 30 to 45 minutes.

More Recipe Ideas
RECOMMENDED BOOKS
The Vegetarian Meat and Potatoes Cookbook: 275 Hearty and Healthy Meat-Free Recipes for Burgers, Steaks, Stews, Chilies, Casseroles, Pot Pies, Curries by Robin Robertson (ISBN: 1558322051)
Living Among Meat Eaters: The Vegetarian's Survival Handbook by Carol Adams (ISBN: 0826415539)
Today's Veg Week Events
Event #1:
Guided Grocery Store Tour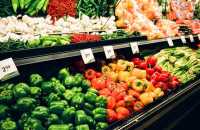 Today, Saturday October 6 @ 1 pm.
Jimbo's, The Forum, 1923 Calle Barcelona, Carlsbad, 92009

Join us as our guide shows you where to find all the items you'll need to continue your exploration of the many veg options available!



Event #2
Ice Cream Social


Today, Saturday October 6 @ 6 pm


Evolution Fast Food


2965 5th Ave.,

92103



Come and meet great people while you enjoy Evolution Fast Food's homemade vegan soft serve, regular and raw banana splits, regular and raw sundaes, fantastic veggie burgers and more! 20% of food purchases go to support APRL. Kids are welcome!



Live music tonight:



7:00: Local hip hop group The Brothers Burns & J Phatts
7:30: Prince Habib
Did you know?
For the vast majority of farm animals in America, misery is a way of life. Each year, millions of animals are severely confined, stressed, broken and traumatized on their way to the dinner plate, victims of a system that places profit before the humane treatment of these animals.

The costs of this broken system are immeasurable in terms of animal cruelty, environmental destruction, and human health.
Great Sources of Antioxidants
Dark chocolate
Tomatoes and tomato products
Citrus fruits and berries
Red, yellow, or orange peppers
Nuts and seeds
Nori, hijiki, arame (seaweeds)
Deep orange fruits and vegetables (carrots, squash, yams, pumpkin, apricots, cantaloupes, mangoes, papayas, nectarines)
Greek Salad
Photo from Toronto Vegetarian Society
Questions?
Visit
sdvegweek.com
for detailed information on all aspects of a veg diet. The site features nutrition info, recipes, tips, FAQs, and much more. You can also email us at
vegweek@aprl.org
Animal of the Day: Donna

A trail of blood marked the path from the rescuer's car to Melrose Small Animal Hospital. The chicken he carried was bleeding from her feet, and a deep wound gaped along the right side of her body.
The hen, now named Donna, is a Cornish chicken, a breed used for meat. She came from a nearby farm, where she lived in a pen with a wire floor often used to expedite cleanup. That would explain how her feet came to be torn and bloody. Cornish chickens, or "broilers" as they're known in the industry, have been selectively bred to grow rapidly to an unnatural size, reaching their massive "market weight" when they are just 39 days old and arriving at the slaughterhouse still peeping like babies. Cornish chickens' heavy, unwieldy bodies cause them much suffering and susceptibility to deformities, lameness, and sudden heart failure. More...
About Us
Veg Week is a project of the Animal Protection and Rescue League (APRL).


Visit us at www.APRL.org or call 858-202-0147 for information.