DAY SEVEN, IN VEGGIE HEAVEN
Congratulations! Your efforts this week have resulted in a positive and important change in your health, the well-being of animals, and the environment we all share.

You've taken the first steps towards what we hope will be a life-long journey, making the world a better place for yourself and all those around you.


DAILY DOSE OF NUTRITION ADVICE
WITH DR. JANICE STANGER
This last week may have been filled with both delights and challenges. You may be realizing the unbeatable health benefits of a whole foods, plant-based diet. Yet you are wondering how to keep it up.
The Perfect Formula Diet is an eating plan that will keep you satisfied, trim, and healthy for life. Here's a quick outline of this easy-to-remember way of eating. By volume (such as a cup, half cup, or whatever you life):
One quarter of your food will be vegetables.
One quarter of your food will be fruits.
One quarter of your food will be beans, peas, lentils, and/or potatoes in any proportion.
One quarter of your food will be whole grains.
Eat flavorful foods with generous amounts of fresh or dried herbs and spices. Add a handful of nuts or seeds four to six days a week; or choose nut butter if you prefer. Don't forget your two tablespoons a day of ground flax seeds. These inexpensive seeds are your healthiest and most affordable source of omega-3 fatty acids. Be sure to take a vitamin B12 supplement (while plants make most vitamins, B12 is made by bacteria).
Foods to avoid include all animal foods (meat, poultry, fish, dairy, eggs) and manufactured foods (such as white flour, white rice, sugar, soda, margarine, and jarred vegetable oils).
You will find that food cravings fade as your body is getting all the nutrients and calories it needs. Your tastes will change as well, and this process takes only about three weeks. With one week down, you are only two weeks from finding that whole plant foods taste better to you than previous unhealthy food choices did.
SUGGESTED LINKS
RECIPE IDEAS
Red Lentil Dal (serves 4)
Ingredients
1 cup red lentils
1 large onion, chopped
1 tbsp olive oil for frying
3-4 cups water
1-2 tomatoes, chopped (optional)
Cinnamon stick (optional)
1 tbsp Indian curry paste
Salt to taste

Directions
Carefully sift through the dry lentils and remove any tiny rocks.
In a large pot, sauté onion with oil and curry paste until softened.
Add rinsed lentils, water and optional tomato and cinnamon stick.
Bring to a boil then simmer covered at a low boil for up to an hour until the lentils become creamy.
Salt to taste.
Serve as a soup or over rice.
Quick Veggie Rice (serves 2)
Ingredients
1 small onion, chopped
1 tsp oil
1 small stick of cinnamon
1 bay leaf
1 tsp ground cumin
1 cup basmati rice
1 cup mixed chopped vegetables (potato, carrots, peas, beans, corn)
3 cups water
Salt to taste
Dash of coconut cream or coconut milk (optional)
Directions
Sauté chopped onions in oil.
When golden brown, add cinnamon, bay leaf, cumin, rice and vegetables.
Sauté two minutes and add 3 cups of water.
Bring to a boil, add salt, and coconut milk (if using) and simmer covered over low heat.
Cook for 20 minutes (35-40 minutes for brown rice).
Garnish with coriander leaves or sliced green onions, and serve along with chutney or with dal.
More Recipe Ideas
Ready to try tofu? These two recipes make a great introduction to this excellent and versatile source of protein:
RECOMMENDED BOOKS
Turn Off the Fat Genes: The Revolutionary Guide to Losing Weight by Neal Barnard, MD (ISBN: 0609809040)
No More Bull! The Mad Cowboy Targets America's Worst Enemy: Our Diet by Howard F. Lyman (ISBN: 0743286897)
Today's Veg Week Events
Event #1
Walk For Farm Animals
Today, Sunday October 7 @ 7:30 am – 12 pm
Balboa Park, 6th Ave. and Quince St
Put on your walking shoes and join us for a 2.5 mile walk to benefit Farm Sanctuary. There will be food, raffle prizes, and music! Register here or at the event for $25.
Event #2
Michael Greger, MD Lecture:
The Latest In Clinical Nutrition 2012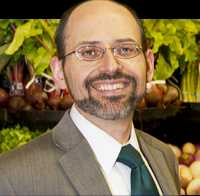 Today, Sunday October 7 @ 6:30 pm
Joyce Beers Community Center (Hillcrest) 1230 Cleveland Ave., 92103
Sponsored by Last Chance For Animals. Enjoy delicious and healthy vegan cuisine available for purchase from local vegan company Lighten Up Food from 5:45 - 6:30. More info here.
Did you know?
Food can be powerful in preventing (and even reversing) diabetes! However, dietary approaches have changed as we have learned more about the disease.
The traditional approach focuses on limiting refined sugars and foods that release sugars during digestion; For example, starches, breads, fruits, and pasta.
The new approach focuses more on fat. Fat is a problem for people with diabetes. The more fat there is in the diet, the harder time insulin has in getting glucose into the cells. Conversely, minimizing fat intake and reducing body fat help insulin do its job much better.
Find out more here.
Questions?
Visit sdvegweek.com for detailed information on all aspects of a veg diet. The site features nutrition info, recipes, tips, FAQs, and much more. You can also email us at vegweek@aprl.org

Animal(s) of the Day:
"Free Range" Egg-Laying Hens Get a Rare Second Chance
For egg-laying hens in commercial production, even those on "free-range" farms, life ends between the ages of one and two years. Pushed to their limits by generations of selective breeding, modern egg-type hens each lay more than 250 eggs per year at their peak, an output their bodies cannot long sustain. When their productivity begins to decline, these hens are deemed "spent," and although they could live for many more years, they are slaughtered.

For 142 "spent" hens from a farm in Pennsylvania, however, there will be no harrowing trip to the slaughterhouse. More...


Quick Veggie Rice
Photo from Toronto Vegetarian Society
About Us
Veg Week is a project of the Animal Protection and Rescue League (APRL).

Visit us at www.APRL.org or call 858-202-0147 for information.